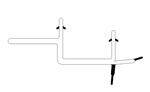 Part Number 904 - this is the new style surround end cap

This is the replacement product to use on the Hurd wood/Clad Encore and DLX Energy Saver Sash Manufactured from 8/2/04 to 9/17/07

Longest Length Weather Strip Comes in is 6' pcs

To enlarge pictures Left Click on them with your mouse.

Bulk Pricing Example: add part number 904 to shipping cart and change quantity from 1 to 150 hit enter. This equals 150' (feet) for $375.00. So you will Receive 25 pcs at 6' (foot) each.
$15.00, 6/$60.00, 150/$450.00, 300/$750.00